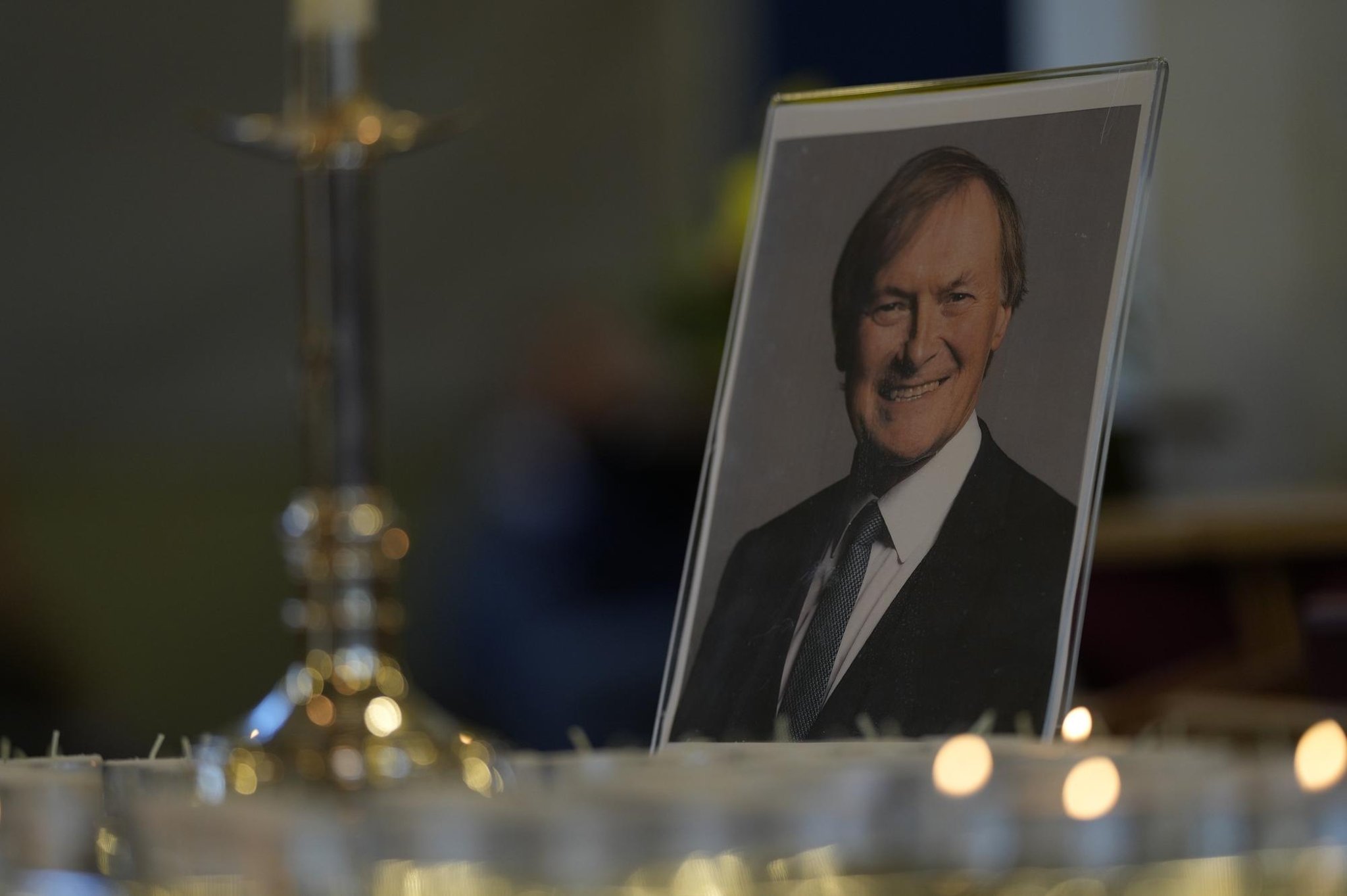 Brian Monteith: Our politicians must bring down the gall
Candles are lit next to a portrait of David Amess during a vigil for him at St Michaels Church in Leigh-on-Sea on Sunday
Sir David, always smiling, was essentially a reliable and charming backbench MP, well regarded by virtually everyone who came into contact with him. He was the epitome of how our democratic politics are supposed to work – being comfortable supporting MPs from other parties on common causes to help the underprivileged, the suffering and the unrepresented animal kingdom.
Committed to helping his constituents and constituencies, Basildon and then Southend have benefited from his hard work.
While as a devout Catholic he was socially conservative and his voting record reflected this, he was not easy to rank but followed his own judgment.
He accepted Tony Blair's argument about the threat of weapons of mass destruction and voted for the Iraq war in 2003 – like so many of his colleagues – but then, after failing to find a substantial threat, he was part of a small group that supported Blair's impeachment the following year and later in 2013 voted against bombing Syria during its civil war.
Amess' private bills were forces for good, like the Protection Against Cruel Tethering Act (1988) inspired by her local Essex Horse and Pony Protection Society, or the Warm Homes and Energy Conservation Act (2000) who is credited with helping four million people. fuel poverty.
There were many other things I could brief readers on, such as Amess promoting the work of Raoul Wallenberg helping Jews escape the Nazis or establishing the All-Party Group on Endometriosis with colleagues, but the space limit myself to the most impactful.
Likewise, I wonder how many readers had heard of Jo Cox before his brutal murder on their way to his constituency office?
True, she died just a year after being elected Labor MP for Batley and Spen in 2015, but Cox was another MP who could work with opposing colleagues, co-authoring an article in The Observer with the former Conservative Minister Andrew Mitchell on the Syrian Civil War. She then started and chaired the Friends of Syria all-party parliamentary group and was working with Tory Tom Tugendhat on a report on the war in Iraq at the time of her death.
I ask the questions about raising public awareness to these victims and I give the context of their work and their ability to cooperate with opponents because this democratic tradition – of debating ideas and positions, but being able to respect and to disagree, and even to work together where there is common ground – is a fundamental aspect of our democratic tradition. It tends to go unnoticed.
There will always be strong, if not bitter, disagreements in politics, including between members of the same parties, but the maintenance of mutual respect and practical collaboration – based on sincere and frank expression and the essential ingredient of the consent of the parties. losers – are very valuable goods. Pluralism and liberal debate, the recognition of nuances and details are the antithesis of authoritarian and totalitarian beliefs.
Extremists of radicalized ideologies or religions hate and seek to silence what they see as the dangerous attributes of politicians who behave in a civil manner by establishing common ground.
It is for this reason that we must speak out against inflammatory speeches and writings and encourage our politicians to be honest with us if we are to protect our democracy and individual politicians. Our political actors, whether professional politicians, commentators, comedians or anonymous demagogues sticking their bile out of their smartphones must contain hatred.
"To treat opponents" scum "," conservative "or" English "with a venomous pejorative side – as we have seen in recent years on t-shirts and banners as well as in speeches on the sidelines and on social media – serves to facilitate an atmosphere of hatred used to justify acts of violence by unscrupulous others.
This may not have been the intention of those raising emotional temperatures, but it is the consequence.
Just last Saturday, the day after Sir David Amess was murdered, Scottish Green Party government minister Lorna Slater posted a particularly callous Tweet which she later deleted. She asked how the British could continue to vote Tory – as if there were no Conservative voters in Scotland (but it turns out to be Holyrood's second largest party because of their own votes of the Scots) – and ignored the truth that the majority of the English themselves did. not to vote Tory in 2019. Nonetheless, Slater described them as homogeneous groups of people who should all be treated the same, implicitly banning them from respectable speech as if they were irrelevant.
Just a fortnight earlier, Deputy Leader of the Labor Party, Angela Rayner, had spoken with derogatory intent of 'Tory Scum' and was argued by many as having a justification.
In the 2019 general election, at a campaign rally in George Square in Glasgow, our Prime Minister venomously pronounced the self-contradictory phrase: 'The Scotland we seek is open, welcoming, diverse and inclusive – and no conservative will ever be allowed to change that. Sturgeon's Scotland clearly wouldn't be open, welcoming, diverse or inclusive if you were just conservative – a large minority of Scots.
Whatever the motivation behind Sir David's murder, I think most reasonable people would agree that there is a need to curb some of the rhetoric we've been hearing lately. It establishes a moral relativism that at the very least justifies intimidating and threatening behavior towards minorities – often women defending their rights – and that surely cannot be the Scotland or Britain we seek.
Brian Monteith is Editor-in-Chief of ThinkScotland.org and has previously served in the Scottish and European Parliaments for the Conservative and Brexit parties respectively.