Iraqi forces chase Kurdish fighters from the town of Sinjar | Iraq
Kurdish fighters have lost more territory in Iraq, a day after Iraqi forces drove them out of the disputed oil-rich city of Kirkuk.
Local Yazidi fighter commander Masloum Shingali said Kurdish forces left the town of Sinjar before dawn on Tuesday, allowing Shiite-led militias fighting with Iraqi forces to move into the town.
Shingali said there were no clashes and the Kurdish forces left immediately. "They didn't want to fight," he said.
The city's mayor, Mahma Khalil, said the Popular Mobilization Forces, a coalition of predominantly Shiite militias, were securing Sinjar.
Iraqi troops pushed their Kurdish allies in the battle against Islamic State out of Kirkuk on Monday, seizing oil fields and other facilities as tensions soared following last month's Kurdish vote for independence .
Iraqi forces also took control of the Bai Hasan and Avana oilfields northwest of Kirkuk on Tuesday, after seizing the Baba Gurgur, Jambur and Khabbaz fields the previous day, a senior army officer said. at Reuters. Oil officials in Baghdad said all fields were operating normally.
The Pentagon sought to downplay the scale of the clashes between the two sides on Monday, after forces loyal to the central government in Baghdad quickly took control of almost all of Kirkuk and Kurdish forces abandoned their positions, retreating into nearby oilfields. Video footage showed streams of Kurdish refugees leaving Kirkuk in cars.
Thousands of civilians returned to Kirkuk on Tuesday, a day after fleeing fears of possible clashes.
Baghdad's decision came three weeks after the Kurdish independence referendum, which included the ethnically diverse city, a controversial decision that Baghdad viewed as effective annexation.
The peshmerga withdrawal brought decisive military and political gains to Baghdad and a devastating blow to the Kurdish region's de facto president, Massoud Barzani, who had staked much of his legacy on the referendum and aimed to use it as a springboard. to consolidate Kurdish autonomy.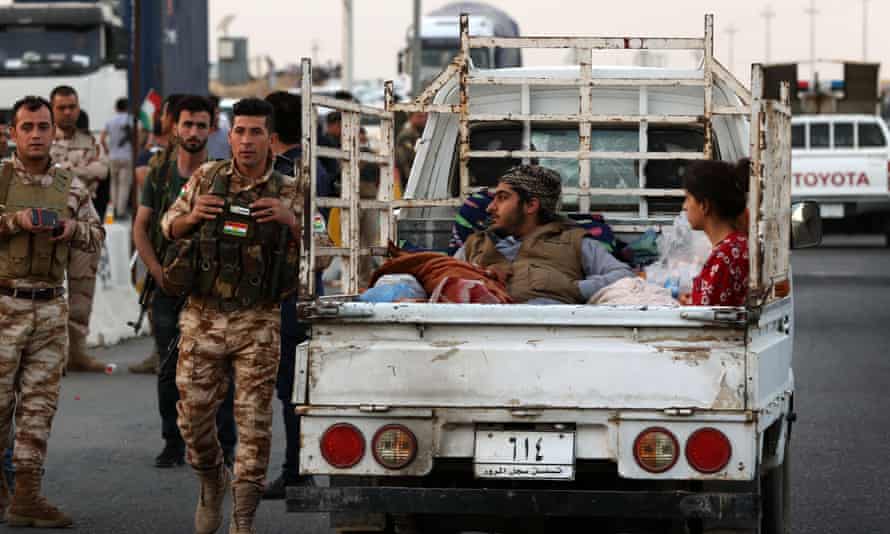 The northwestern town of Sinjar is infamous as the site of one of the Islamic State's worst atrocities. He killed thousands of Yazidi men and abducted thousands of women and girls as sex slaves in 2014.
Tens of thousands of civilians fled to nearby mountains in appalling conditions, helping to trigger the US intervention against the jihadists.
Yazidis are Kurdish-speaking, but follow their own non-Muslim faith which has earned them the hatred of Sunni Muslim extremists in Isis.
Following the 2014 exodus, many Yazidis volunteered to fight Daesh, either in their own militias or those sponsored by the Kurds or the Iraqi government.
Hashed al-Shaabi, a paramilitary force made up largely of Iranian-trained Shiite militias, said Yazidi fighters in its ranks had deployed in Sinjar.
Kurdish forces took the city from Isis in 2015.
Sinjar and Kirkuk are part of a historically Kurdish-majority strip of territory that the Kurds want to incorporate into their autonomous northern region, against Baghdad's wishes.
The Kurds took control of parts of the territory in 2014 when many Iraqi army units disintegrated in the face of the rapid advance of jihadists in areas north and west of Baghdad.
Associated Press and Agence France-Presse contributed to this report