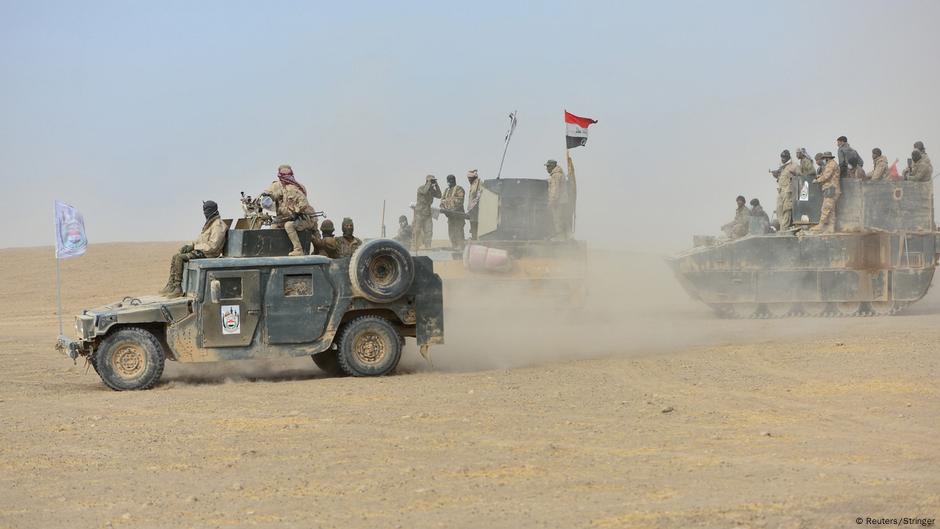 Iraqi militias claim to have isolated ISIS-controlled Mosul | News | DW
Security officials said on Wednesday that Iraqi-led forces had successfully cut Mosul from its western supply lines, with "Islamic State" (IS) now under siege in and around the city.
The news was confirmed by Peshmerga sources, who said the predominantly Shiite and Arab militias of the Popular Mobilization had taken control of the road leading southwest from Tal Afar to the Syrian border.
Tal Afar, which lies about 60 kilometers (35 miles) east of the much larger city of Mosul, is on the last remaining route to Syria. The advance of the militia means that ISIS forces are wedged between the eastern outskirts of Mosul, where Iraqi troops are pushing their way into the city, and the Tel Afar area.
Iraqi forces, backed by a US-led air alliance, launched their offensive to retake Mosul, Iraq's second-largest city in mid-October.
In eastern Mosul, Iraqi special forces are slowly making their way to the city center, but face suicide car bombs, traps and snipers. Meanwhile, they're hampered by the problem of having to fight an enemy who doesn't hesitate to use human shields.
Meanwhile, Popular Mobilization units surrounded the town of Tal Afar – which was predominantly Shiite before it fell to ISIS.
The UN says at least 68,000 people have fled the fighting in Mosul, including some 8,300 in the past four days. The Associated Press reported that many of those fleeing were viewed with suspicion as they approached Iraqi troops, who feared hiding car bombs.
Mosul fell to ISIS in the summer of 2014, and is still home to over a million people. The authorities, worried about the difficulties of a mass exodus, have asked residents to stay at home.
rc / bw (AP, AFP, dpa, Reuters)