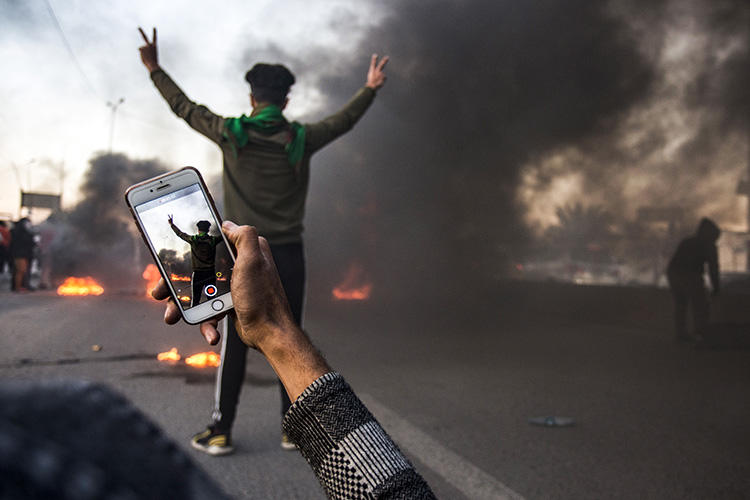 Iraqi militias use threats and violence to keep Basra press online
"You are working against us. In your work, you criticize the militias. We have watched your videos and you are speaking out against us. You will pay the price, "said an anonymous voice on the other end of the line to freelance journalist Azhar Al-Rubaie.
The call came in September, a few days after a video showing al-Rubaei interviewing one protester went viral. Al-Rubaie was covering one of the many protests held in the southern Iraqi city of Basra since July to protest deteriorate life standards, when a masked protester wearing a portrait of adult actress Mia Khalifa caught his attention.
"I asked him what message he was trying to convey by wearing this photo and he asked me to point to a single politician in Iraq who was more honorable than Khalifa, so he could go and complain about the lack of water. , electricity, sanitation and jobs in Basra. He said Khalifa gave him more comfort than any politician, "Al-Rubaie, who works for the London-based agency Arab weekly and Iraqi independent television channel Sky Michigan TV, told CPJ.
Al-Rubaie tried, unsuccessfully, to find out who was behind the threatening appeal. He said he believed the appellant was linked to one of the Iranian-backed militias operating in Basra.
The Iraqi authorities have mainly relied on militias, some of which are funded by Iran and prominent Iraqi religious figures, to oust the militant group Islamic State. After defeating the extremists in 2017, these militias were recognized by the then Iraqi Prime Minister as the official security force. Militia leaders including Hadi al-Amari, head of the Badr organization, an Iranian-backed militia, took advantage of the militias' popularity to enter Politics.
Until the threatening call, Al-Rubaie said he felt safe covering the protests and the brutal response of the security forces and militias who targeted activists and demonstrators, but he also knew the dangers for journalists in Basra.
Between the start of the protests in July and the publication of its findings on September 18, the Iraqi press freedom group Journalistic Freedoms Observatory (JFO) documented at least 15 cases of journalists who have been assaulted, detained or prevented from covering protests by security forces and armed groups. Some, including Reuters photographer Essam al-Sudani, were cited by JFO as saying that the security forces seized their equipment and erased footage or footage of the protests.
"The SWAT police prevented me from covering a demonstration in September, but I insisted on filming, so they hit me in the back with their batons, broke my phone and seized all my equipment, which they returned hours later, "Al-Rubaie said. said, referring to the police emergency response unit.
In response to the threats, Al-Rubaie first decided to move to Basra and finally to leave for the United States in December. CPJ is aware of at least four other journalists who have left Basra due to threats and abuse by security forces and militias.
Two of them declined to comment for this article, fearing that family members still in Basra might be attacked.
Safaa Khalaf, an investigative journalist and academic in exile from Basra, said: "Security forces and militias are targeting journalists working for foreign media and local journalists working for semi-independent local media to prevent them from cover not only demonstrations, but also Corruption, the proliferation of illegal weapons and medications, and the increase affecting from Iran.
Khalaf added, "However, those who work for media belonging to political parties and Shiite militias enjoy generous funding and protection from the militias, which is why the protesters torched the offices of several media affiliated with the Shiite. Shiite parties and militias, as well as to the state. broadcaster detained simply for their stance against the protests or for neglecting to cover them.
Last year, CPJ documented how protesters targeted media outlets belonging to political parties or Shiite militias, including the state-owned Al-Iraqiya TV and Al-Forat TV, which is affiliated with the Hikma movement of the Iraqi Shiite cleric Ammar al-Hakim. According to JFO, masked protesters also torched the Basra office of Al-Ghadeer TV, a broadcaster affiliated with the Iranian-backed Badr organization, in September.
The Badr organization did not immediately respond to CPJ's email request for comment for this article.
Laura Yousuf, journalist and human rights and LGBTIQ activist who fled Basra in October, told CPJ that Iranian-backed militias, including the Badr Organization and Asa'ib Ahl al-Haq, pose a threat to the journalists.
Yousuf, who reported for Al-Janoob News Agency and monitored human rights violations for the Al-Amal Organization, a local non-governmental organization that promotes human rights and gender equality in Iraq, said said SWAT forces arrested and beat her for filming the September 4 protests. Less than an hour later, she was released after claiming that she worked for the pro-Iranian television station Al-Marbad TV and signing a document claiming that she would never participate in the protests again.
Barely a week later, a stranger in the street threatened to kill her. Yousuf told CPJ that his partner was warned that he was on a Badr organization's "hit list" for promoting civic engagement and LGBTIQ rights in Iraq. It was then that Yousuf left Iraq.
Basra journalists CPJ spoke to described a sense of helplessness as these abuses go unpunished, even when the evidence is on their side.
"Journalists are insulted almost every day. If our relations do not please the government, we are threatened. Since the protests began, I have been detained three times by security forces and militias, "a journalist, who requested anonymity for fear of reprisal, told CPJ. "While covering a demonstration in December 2018, I was detained for over three hours. When I told them that I was a journalist and presented my press card to them, they insulted me, put a bag over my head and beat me with a rope. They threatened to arrest me again if I continued to cover the protests. A few days later, a threatening letter was dropped at my door. It was the third, "said the journalist, who showed CPJ photos and videos of his injuries.
Their accounts are in line with a 2018 report by the National Union of Iraqi Journalists, which identified authorities, armed groups and political parties as the main threats to Iraqi journalists and underscored the government's failure to uphold them. perpetrators of violations against journalists responsible for their crimes. .
a aggression by Walid Kitan, the head of the Basra Provincial Council, on Safaa al-Furaiji, correspondent for Al-Amal radio, while covering a press conference in Basra in November, illustrates the impunity with which violations of the press freedoms are committed in Basra.
According to the local press freedom group Iraqi Center for the Support of Freedom of Expression and Mohammed al jabri, a journalist from Radio al-Rasheed who was with al-Furaiji at the time, Kitan hit al-Furaiji without reason in a hallway of the Basra governorate building and asked his bodyguards to take him out and al-Jabri.
Contacted for comment, the Basra Governorate Council Media Center referred CPJ to the Basra Journalists Union. The union is a government-affiliated group that does not have the power to investigate assaults. Kitan's office did not immediately respond to CPJ's request for comment, sent via social media.
Journalists too appealed to higher authorities in Iraq about the aggression, al-Jabri said on Facebook, but more than three months later, the attack has still gone unpunished.