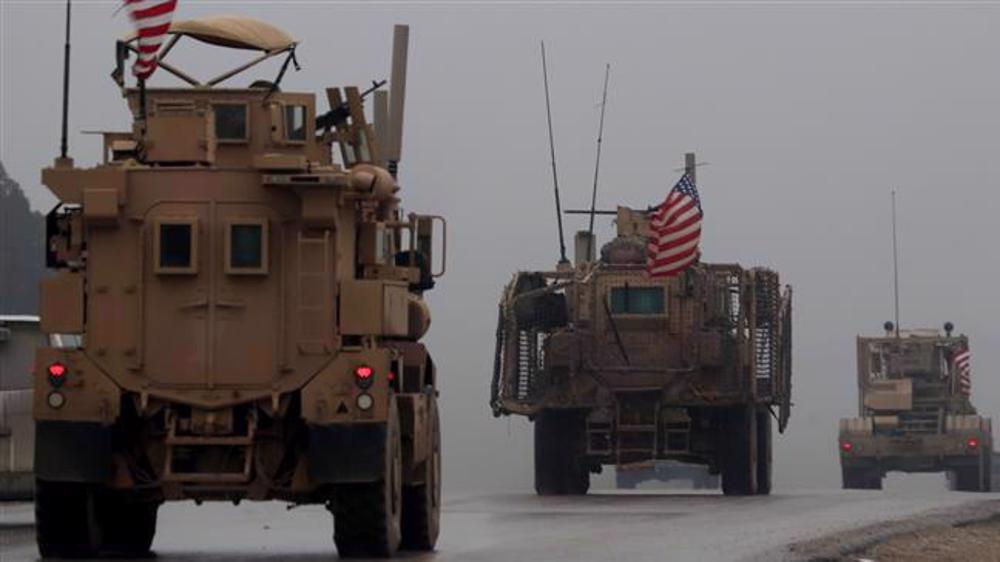 US forces transfer Daesh terrorists from Hasakah in Syria to Iraq
The US military has secretly transferred a large number of Daesh operatives from the al-Khan al-Jabal camp in Syria's northeast Hasakah province, which is ruled by allied Kurdish militants, to a installation in neighboring Iraq, according to a report.
The official Syrian news agency, SANA, citing local sources, reported On Thursday, US forces moved hundreds of Daesh terrorists and their families aboard heavy detainee transports, and the vehicles were escorted by militants from the so-called Syrian Democratic Forces (SDF).
US forces used a convoy of more than 200 vehicles to transport them to Iraq through the illegitimate al-Waleed crossing point, he added.
The US military frequently trains anti-Damascus militants at the al-Tanf base near Syria's borders with Iraq and Jordan.
A number of captured Daesh terrorists have already confessed to cooperating closely with US military forces stationed in al-Tanf in the central Syrian province of Homs in carrying out various acts of terror and sabotage.
Washington has unilaterally declared a 55 kilometer "deconfliction zone" around the facility and has frequently threatened to target Syrian forces in the area.
The US military has stationed forces and equipment in eastern and northeastern Syria, saying it aims to prevent oil fields in the region from falling into the hands of Daesh terrorists.
Damascus says the illegal deployment is meant to plunder the country's resources.
Former US President Donald Trump has repeatedly acknowledged that US forces are in Syria for its oil.
Having failed to oust the Syrian government of President Bashar al-Assad through its proxies and direct involvement in the conflict, the US government has in recent years intensified an economic war against the Arab country.
A US-led military coalition has also been active in Syria under the pretext of fighting Daesh since September 2014 without any authorization from the government in Damascus or a UN mandate.
US military strikes in the Arab country have repeatedly resulted in civilian casualties and failed to achieve their stated counter-terrorism objective.
The new development comes as security conditions have deteriorated in SDF-controlled areas in Syria's northern and northeastern provinces of Raqqah, Hasakah and Dayr al-Zawr.
Local Syrians complain that the constant SDF raids have generated a state of frustration and instability, severely affecting their businesses and livelihoods.
Washington has long collaborated with anti-Damascus activists and plundered Syria's resources, ignoring repeated calls from Damascus to end its illegal occupation of the country.
In recent years, Syrian troops have made significant progress against the remaining pockets of land held by militants across the Arab country, but the United States and its allies are preventing the country from returning to normalcy.