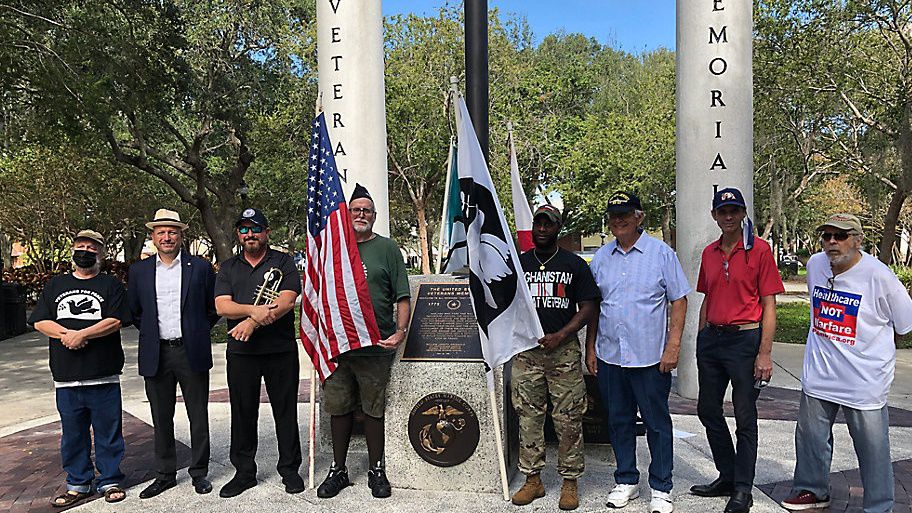 Veterans for Peace commemorates Armistice Day in St. Pete
PINELLAS COUNTY, Florida – As the nation celebrated Veterans Day Thursday, a small group of veterans and their supporters gathered Thursday at Williams Park in St. Petersburg to celebrate Armistice Day, a day which, according to them, is to celebrate peace, not militarism.
---
What would you like to know
Veterans Day has only been a public holiday in the United States since 1954. Between 1938 and 1953, it was called Armistice Day.
Veterans make up about 7.9% of the U.S. population, but account for about 13.5% of suicides in the country, according to the American Foundation for Suicide Prevention.
Veterans for Peace has more than 150 chapters across the country.
---
November 11 marked the end of hostilities in World War I in 1918 and was named Armistice Day the following year by US President Woodrow Wilson. In making his proclamation, Wilson said: "For us in America, the reflections on Armistice Day will be filled with solemn pride for the heroism of those who have died in the service of the country and gratitude for the victory, at the both because of the thing he set us free and because of the opportunity it gave America to show sympathy for peace and justice in the councils of nations.
Armistice Day then became a federal holiday in 1938 and was changed to Veterans Day in 1954.
"I think a veteran like us, and this veteran here, we want peace. We've seen war and we don't want to see how ugly it is, "said Jay Alexander, acting president of the Tampa Bay Chapter of Veterans for Peace, who stood right next to Mike Flannery, a Navy veteran who served in Vietnam.
Alexander wore a shirt with a quote from former President Dwight Eisenhower on the back. Eisenhower served as the Supreme Allied Commander in Europe in 1943. His quote from 1946 read: "I hate war as only a soldier who has lived it can do it, only as someone who has seen its brutality. , its futility, its stupidity.
It was the first Veterans Day / Armistice Day celebration in over 20 years that the United States had no military troops in Afghanistan. The United States completed its withdrawal in late August, but not before a chaotic exit that included a terrorist attack that killed 13 US Marines.
The precipitous ending has brought unfavorable comparisons to how the country left Vietnam in 1975, putting a dark coda on America's longest war.
"Nation building is not our strong suit," said Orlando Acosta, a US Air Force veteran and former St. Petersburg city council candidate who served in Afghanistan and was in attendance Thursday. "The others are much better than us. Building a nation from the embers that were Afghanistan afterwards is a multigenerational task. "
One of the issues championed by Veterans for Peace is the repeal of the 2002 Use of Military Force Authorization (AUMF) which gave President George W. Bush the power to invade Iraq in early 2003.
"Congress has a duty to declare war, not the president," says Alexander.
A major problem for the military community over the past decade and more has been the high rate of suicide among veterans. Veterans make up about 7.9% of the U.S. population, but account for about 13.5% of suicides in the country, according to the American Foundation for Suicide Prevention.
The Biden administration last week announced a series of five goals and executive orders that they believe will advance suicide prevention efforts. "Suicide among military personnel, veterans and their families is a public health and national security crisis," the White House said.
Veterans for Peace have not always been welcome in some Veterans and Memorial Day parades across the country. Alexander said this had not been the case in Pinellas County, saying he and other members marched at an event in Gulfport honoring the veterans a few years ago.
"There are cities that are not yet 'awakened'. They are still in the past, "he said. "It's time to bring peace and show that we are veterans and we have seen it firsthand. We were involved in it and we were under fire.
Abimael Jimenez, assistant to Congressman Charlie Crist, also attended the debates. Jimenez read aloud a statement from Crist.
"I am commenting on Chapter 119 of Veterans for Peace for their dedication to commemorating the two veterans in distress of peace," the congressman wrote.