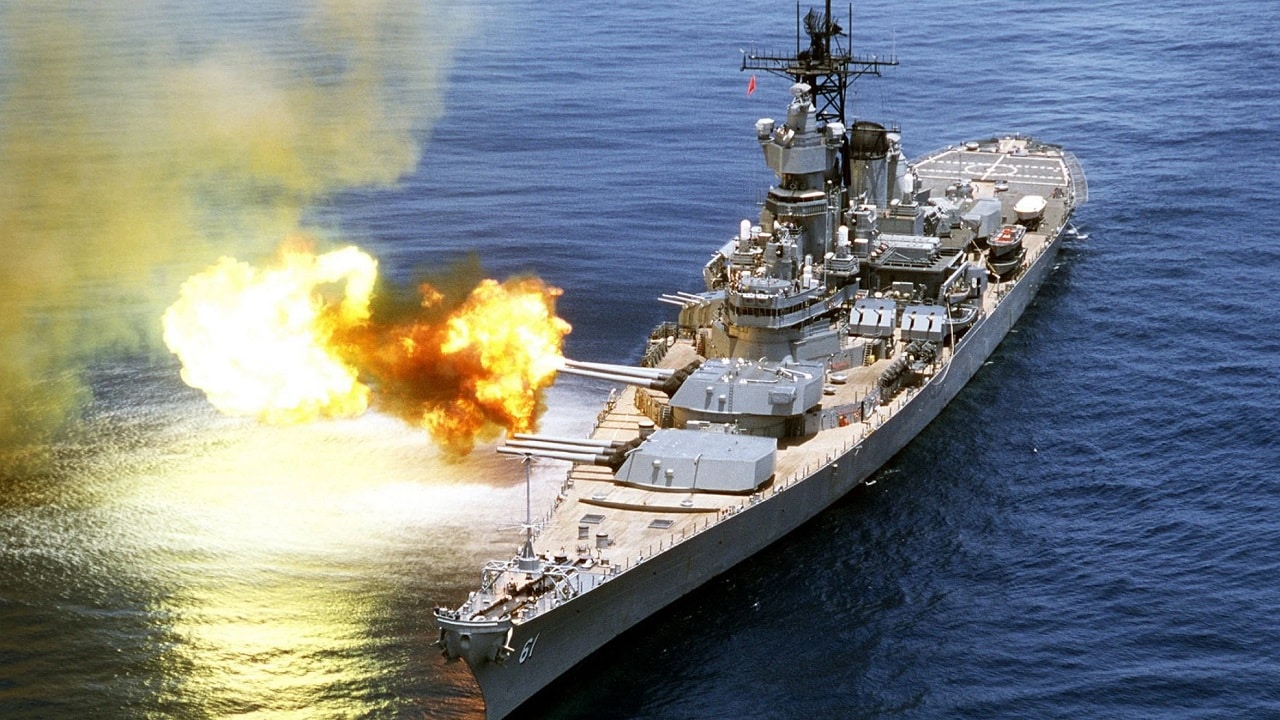 Why the USS Wisconsin Can Claim the Crown of Greatest Battleship Ever
The Iowa-class battleships weren't retired that many times for one simple reason: they were the best battleships to ever sail. And the USS Wisconsin might just be the best of the best. Here is his story: USS Wisconsin (BB-64) was the third Iowa-class battleship to be built during World War II. Built at the Philadelphia Naval Shipyard in Philadelphia, Pennsylvania, she was launched on December 7, 1943 – the second anniversary of the Pearl Harbor raid. During the war she served exclusively in the Pacific, but later would see the service that would take her around the globe.
USS Wisconsin Facts:
A fast battleship
As with her sister ships in the Iowa-class, BB-64 was designed as a "fast" battleship that blended speed and firepower, allowing it to keep pace with an aircraft carrier strike force, while remaining elegant in design to be able to travel through the Panama Canal. She displaced 45,000 tons, was just under 900 feet long, had a crew of about 1,600 men.
Sponsored by then-Wisconsin Governor's wife Walter Goodland, its motto was "Forward for Freedom".
well armed
Armed with a main battery 16-inch guns that could hit targets nearly twenty-four miles away with a variety of artillery shells, the Iowa-class were among the most heavily armed American military ships ever seen.
USS Wisconsin'The main battery consisted of nine 16-inch/50 caliber Mark 7 guns in three-gun turrets, which could fire 2,700-pound (1,225 kg) armour-piercing shells about 23 miles (42.6 km). The secondary batteries consisted of twenty 5-inch/38 caliber guns mounted in twin-gun dual-purpose (DP) turrets, which could hit targets up to 16.7 km away.
Second ship named for Wisconsin
BB-64 was the second battleship named for the Badger State. The first ship bearing the Wisconsin name had been BB-9, the third and last Illinois-pre-dreadnought class. BB-9 served as part of the "Great White Fleet" – the nickname for the group of US Navy battleships that made a voyage around the world from December 16, 1907 to February 22, 1909 by order of President Theodore Roosevelt.
A project Colombia-class, SSBN-827, will also be named for Wisconsin. She will be the second boat of the new class of ballistic missile submarines and should be launched in 2024.
Service after World War II
After World War II, the USS Wisconsin was briefly decommissioned, then reactivated for the Korean War, and provided naval gunfire support duties against enemy bunkers, command posts, and artillery positions. Wisconsin earned five battle stars for his service in World War II and one for the Korean War.
When she joined the US Navy's reserve fleet – the "Mothball Fleet" – in 1958, it was the first time the US Navy had been without an active battleship since 1895.
Back to service in the decade of excess
When President Ronald Reagan called for a 600 US Navy ships in the 1980s, the four Iowa-class battleships – including BB-64 – have been revived and upgraded with new combat systems that have replaced many of the ships' smaller five-inch guns with a Harpoon anti-ship missile launcher, thirty-two Tomahawk cruise missiles and four Phalanx close-in weapon systems (CIWS). Originally fitted with 40mm anti-aircraft guns, they were replaced during the Cold War by missiles, electronic warfare suites and Phalanx Gatling anti-missile gun systems.
Service in Desert Storm
With his sister Iowa– class battle wagon, USS Missouri (BB-63), USS Wisconsin actually used the new weapons in combat operations when she was deployed in the Persian Gulf as part of Operation Desert Storm. During the campaign, the two World War II battleships launched Tomahawk missiles at Iraqi targets and conducted naval gunnery missions to convince the Iraqi military that coalition forces would engage in an amphibious assault , immobilizing thousands of Iraqi units.
Disused but not scrapped
In 1991, the USS Wisconsin was decommissioned again, but with USS Iowa (BB-61), she was retained in the United States Navy Reserve Fleet pursuant to the National Defense Authorization Act of 1996 for potential use as a shore bombardment warship.
In March 2006, the Secretary of the Navy exercised authority to strike the two Naval Vessel Register (NVR) World War II combat cars. With the other Iowa-class battleships, Congress directed that while each could be converted into museums, none could be modified in a way that would impair their respective military capability. Theoretically, Wisconsin and the other Iowa-class warships could be reactivated for service should the need arise – but this is unlikely to happen.
However, this ensures that the warship can be enjoyed for years to come and serves as a lasting memorial to sailors who served on board. Today the USS Wisconsin is kept as a museum ship in Norfolk, Virginia. She is listed on the National Register of Historic Placesand remains one of the last American battleships to fire in anger.
Today's editor for 1945, Peter Suciu is a Michigan writer who has contributed to more than four dozen magazines, newspapers, and websites. He writes regularly on military hardware and is the author of several books on military headgear, including A gallery of military hairstyles, which is available on Amazon.com. Peter is also a Contributing author for Forbes.